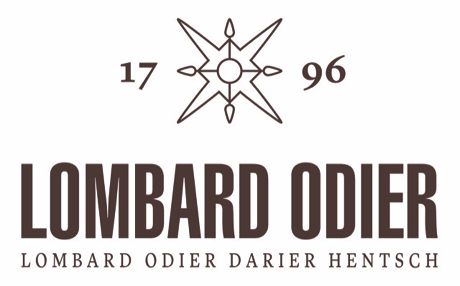 To Independent Asset Managers
Our team of professionals dedicated to Independent Asset Managers (IAMs) has offered customised solutions that have responded to our clients' demands for 30 years. The Lombard Odier Group can provide your IAMs with effective products and services to manage your wealth, while maintaining a stable and solid relationship.
Front to back banking services with a tailor-made approach
Dedicated Lombard Odier teams – that coordinate your needs with our in-house experts and your IAMs

A cutting-edge portfolio management system (G2)

Trading and advisory services

Regulatory support

Our wide range of products, services and specialists allow us to find tailored solutions to each of your needs
Lombard Odier's easy-to-use, high-performance G2 portfolio management system guarantees a permanent link between the IAMs offices and our firm, enabling them to manage their clients' accounts with total autonomy.
Global reach combined with local insights
We are pioneers in the field of IAM business development. Today, IAMs can rely on our dedicated experts located in eight offices across the world's financial centres:

Geneva, Zurich, Lausanne, London, Luxembourg, Singapore, Nassau and Bermuda.

Your support strengthens our position as a solid and reliable partner, and helps us anticipate tomorrow's strategic and regulatory changes.
A portal for our professional partners 
The LO Gate portal is the entry door to Lombard Odier's information and applications for our professional partners.
It provides online access with easy connection to an intuitive interface

It is organised by sections: 
Applications (G2, CRM, electronic archiving, etc.)

Communications

Upcoming events

LO documents

Financial news

Contact
LO Gate – easy and intuitive user interface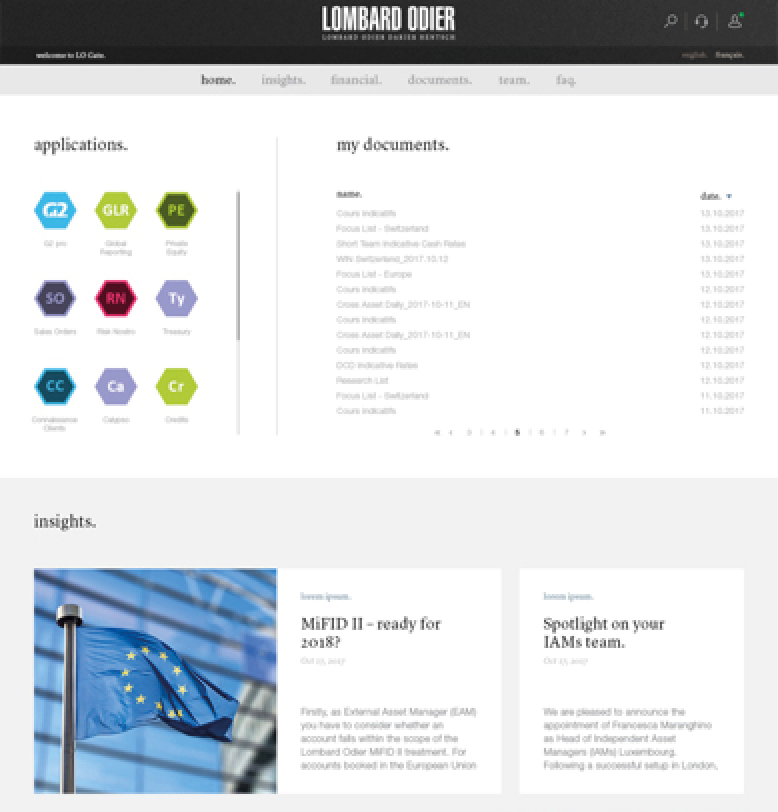 Important Information
This document has been prepared by Lombard Odier (Hong Kong) Limited or an entity of the Group (hereinafter "Lombard Odier"). It is not intended for distribution, publication, or use in any jurisdiction where such distribution, publication, or use would be unlawful, nor is it aimed at any person or  entity to whom it would be unlawful to address such a document.
This document is provided for information purposes only and does not constitute an offer or a recommendation to purchase or sell any security, funds or any investment product. It contains the opinions of the Lombard Odier Group, as at the date of issue. These opinions do not take into account individual investor circumstances, objectives, or needs. No representation is made that any investment or strategy is suitable or appropriate to individual circumstances or that any investment or strategy constitutes a personal recommendation to any investor. Each investor must make his/her own independent decisions regarding any securities or financial instruments mentioned herein. Before entering into any  transaction, an investor should consider carefully the suitability of a transaction to his/her particular circumstances and, where necessary, obtain independent professional advice in respect of risks, as well as any legal, regulatory, credit, tax, and accounting consequences.
The information and analysis contained herein are based on sources believed to be reliable. However, Lombard Odier does not guarantee the timeliness, accuracy, or completeness of the information contained in this document, nor does it accept any liability for any loss or damage resulting from its use. All information and opinions as well as the prices indicated may change without notice. Past performance is no guarantee of current or future returns, and the investor may receive back less than he invested.
The investments mentioned in this document may carry risks that are difficult to quantify and integrate into an investment assessment. In general, products such as equities, bonds, securities lending, forex, or money market instruments bear risks, which are higher in the case of derivative, structured, and private equity products; these are aimed solely at sophisticated investors who are able to understand and accept the risks. If opinions from financial analysts are contained herein, such analysts attest that all of the opinions expressed accurately reflect their personal views about any given instruments. In order to ensure their independence, financial analysts are expressly prohibited from owning any securities that belong to the research universe they cover. On request, Lombard Odier will be pleased to provide investors with more detailed information concerning risks associated with given instruments.
The value of any investment in a currency other than the base currency of a portfolio is subject to the foreign exchange rates. These rates may fluctuate and adversely affect the value of the investment when it is realized and converted back into the investor's base currency. The liquidity of an investment is subject to supply and demand. Some products may not have a well-established secondary market or  in extreme market conditions may be difficult to value, resulting in price volatility and making it difficult to obtain a price to dispose of the asset.
Hong Kong: This document has been distributed by Lombard Odier (Hong Kong) Limited, a licensed entity regulated and supervised by the Securities and Futures Commission in Hong Kong for the general information of professional investors and other persons in accordance with the Securities and Futures Ordinance (Chapter 571) of the laws of Hong Kong.
Japan: This document has been distributed by Lombard Odier Trust (Japan) Limited for general information only and is not intended for solicitation or recommendation to buy or sell any securities. Lombard Odier Trust (Japan) Limited is regulated and supervised by the Financial Services Agency in Japan and it holds a trust license (FSA No. 208), and is registered with Kanto Local Finance Bureau for Financial Product Transactor (No. 470).
Singapore: This document has been distributed by Lombard Odier (Singapore) Ltd. for the general information of accredited investors and other persons in accordance with the conditions specified in Sections 275 and 305 of the Securities and Futures Act (Chapter 289). Recipients in Singapore should contact Lombard Odier (Singapore) Ltd., an exempt financial adviser under the Financial Advisers Act (Chapter 110) and a merchant bank regulated and supervised by the Monetary Authority of Singapore, in respect of any matters arising from, or in connection with this report. The recipient of this report represent and warrant that they are accredited investors and other persons as defined in the Securities and Futures Act (Chapter 289). This document has not been reviewed by the Monetary Authority of Singapore.
United States: Neither this document nor any copy thereof may be sent, taken into, or distributed in the United States or given to any US person.
This document may not be reproduced (in whole or in part), transmitted, modified, or used for any public or commercial purpose without the prior written permission of Lombard Odier.
© 2018 Lombard Odier & Cie – all rights reserved.